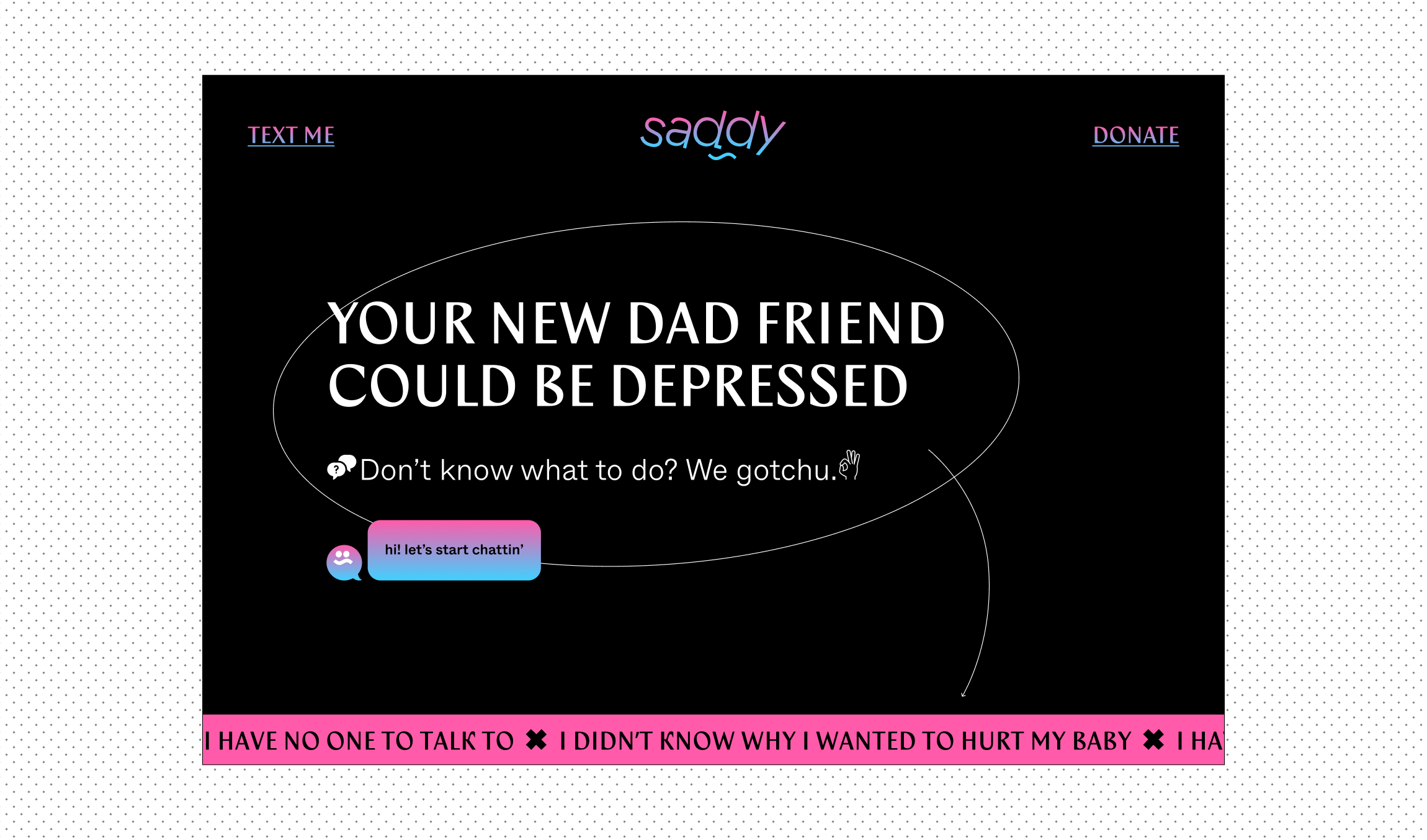 Saddy is a chatbot that guides friends on how to help struggling new dads. Men's mental health is a challenging topic, so I wanted to make it easy to chat about.

UI/UX, BRANDING, CHATBOT, (UNDER DEVELOPMENT)
sketches
About the Project
Saddy started as a personal project. I experienced how hard it is to be a new dad firsthand in a friend group with no other parents. Most people don't know that men can experience their own version of postpartum depression and anxiety – the daddy blues.
Millennial dads take on more parenting responsibilities than their fathers before them, but the support for today's dads is still a generation behind. So I created an accessible and educational service to help bring that much-needed support system to new dads.
Research and Problems
After interviewing new dads and their friends, I found three compounding insights explaining why men's mental health (specifically the daddy blues) isn't discussed.
︎ Hard Opening Up
Emotional communication is uncommon and uncomfortable for men, even among close friends. The perception of needing to "just suck it up" and be stoic is the cause.
︎ Experience Disparity
Younger people encounter information about postpartum depression for moms but rarely investigate it until life events drive them to do so. And in general, people aren't sure or don't know how to help a depressed person.
︎ Far Communication
Chatting through text or social media is inherently shallow. However, that is how many communicate, so I found opportunities to use this to my advantage. Distanced communication can provide a low-pressure, safe space for people who struggle to discuss emotions in a person.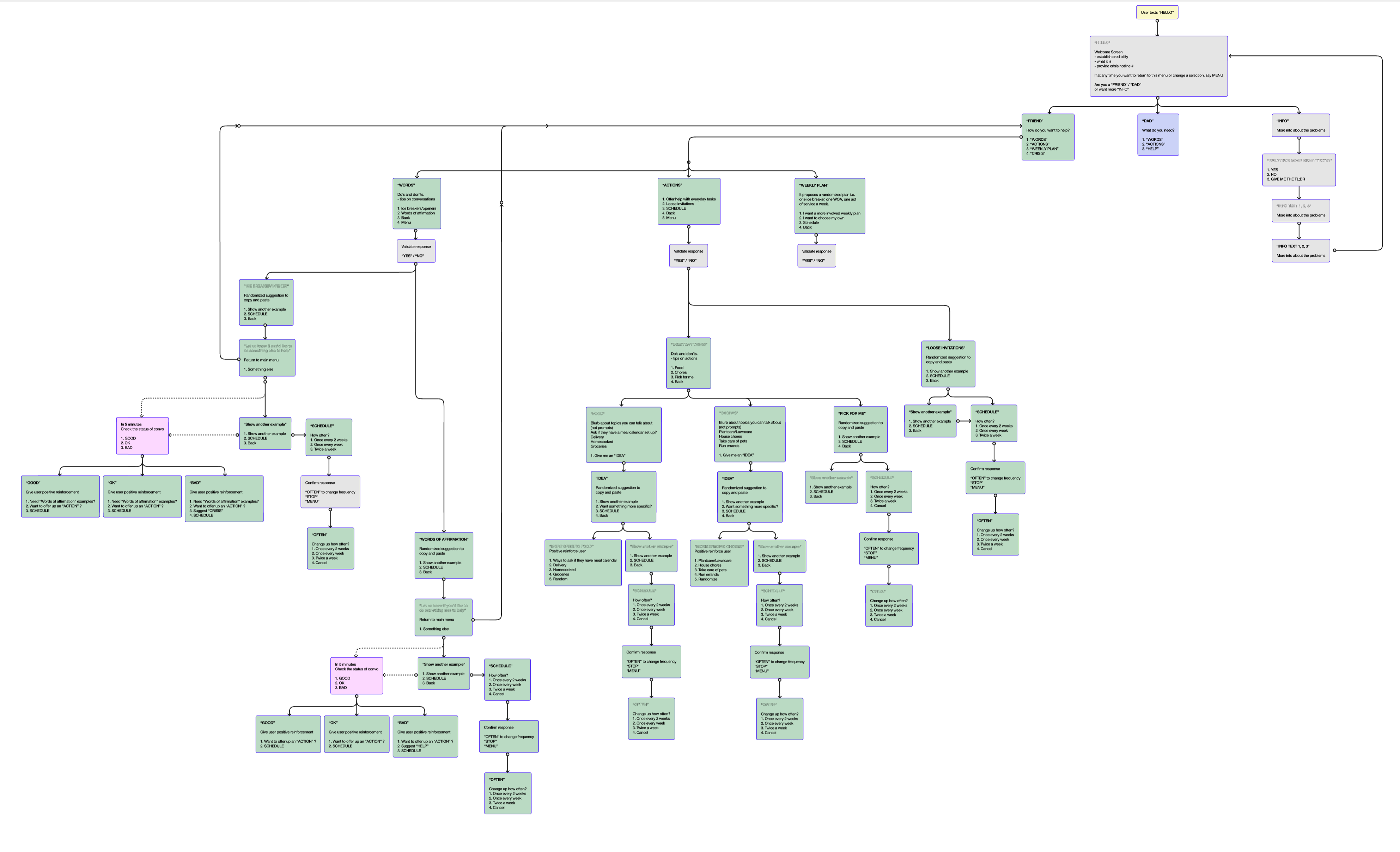 early iteration of chat script flows
UX Solutions
The world of men's mental health is typically not personable. I wanted to change that. I positioned the brand personality and tone of voice to be casual, approachable, and eccentric. I chose to create an SMS chatbot to keep the brand accessible and the barrier of entry low.
︎ Branding fun fact: Sad + Daddy = Saddy!
There are two audiences:
︎ Friends of new dads who don't know what to do or how to help.
︎ New dads who don't know where or how to get help.
I made sure the user journey was straightforward via the chat prompts. The "Friend" suggestions range from taking action (through acts of service) to reminders (checking up on those who are struggling). The "New Dad" suggestions range from scheduling words of affirmation to simple daily mood journaling.
brand guidelines (︎︎︎ Interactive)
Design Problems
To complement the casual tone of voice, I wanted to create a design system that broke away from the two dominant styles in this category: the stuffy, clinical world and the manly man, crude-humor world.
The category is also filled with clichéd black-and-white photos of men sitting by themselves. I made an intentional decision to communicate solely through fun visuals and copy.
I wanted to make sure it has a light and quirky personality with a striking and memorable counter-cultural look.
Logotype, logomark, and dingbats
Design Solutions
Every design decision is intended to help the user be more comfortable engaging their friends instead of being put off and overwhelmed.
I wanted to ironically counter masculinity and baby gender norm colors with the neon pink and blue color palette. When designing the wordmark, I wanted to symbolize the uneasiness and unbalanced feelings new dads experience. The bold geometric typeface was an intentional decision that creates a sense of fun. Glyphs and other graphic elements reinforce the copy and help visualize that this is meant to be fun. This light-hearted casualness is a pillar of the brand personality and tone of voice.
mobile design