We worked with Dr Pepper to sponsor Team SoloMid (TSM), a pro esports team. Fans got excited for the digital campaign we created for them.

BRANDING, ART DIRECTION, CONTENT CREATION
Team SoloMid at a League of Legends tournament
About the Project
After our research showed there was an affinity between Dr Pepper and gaming, lightning struck as esports started expanding in the public eye. There was an opportunity to sponsor one of the most popular and top-performing League of Legends 5-person teams – Team SoloMid.

Since Dr Pepper's first entrance into the gaming world a decade ago with Major League Gaming, the landscape had changed drastically, as esports had grown to mainstream levels. From explaining the culture to providing data about Twitch viewership, we took the lead in providing insights into how we could approach the sponsorship. The gaming world hates advertising, so we tasked ourselves to create something that the fans would love.

Sponsorship announcements
Branding Problems
The current general audience campaign revolved around the idea of "craving." People viewed Dr Pepper as more of a "craveable" treat – like dessert – rather than merely a soda. We needed to work in this framework but add to it so that Dr Pepper fit in the gaming scene.
Branding Solutions
We landed on this positioning statement:
Dr Pepper was the power-up that players craved.
A brand style guide was then crafted that allowed Dr Pepper to fit in the world of esports. We pulled our inspiration from video game power-up effects.
Brand guidelines and alternative digital backgrounds
We added bright, energetic bursts of magenta to the base of maroon. Our workhorse typeface was Klavika Condensed. The crisp and open shapes felt strong and substantial and would fit into the esports world. For versatility, I created multiple variations of the energy backdrop as the hero can explodes front and center.
Team Soda Mid :15 digital ad
Content Solutions
During the concepting phase, fans were excited about the news of Dr Pepper sponsoring Team SoloMid.
A commenter on Reddit exclaimed, "Team Soda Mid," which sparked the inspiration for us.
We wanted the idea to be rooted in fandom. Backed by our strategists' data, here were the three elements we wanted to use to capture the attention of players:
︎︎︎ Nostalgia
︎︎︎ Explosive, actiony effects
︎︎︎ Fast-paced YouTube-style editing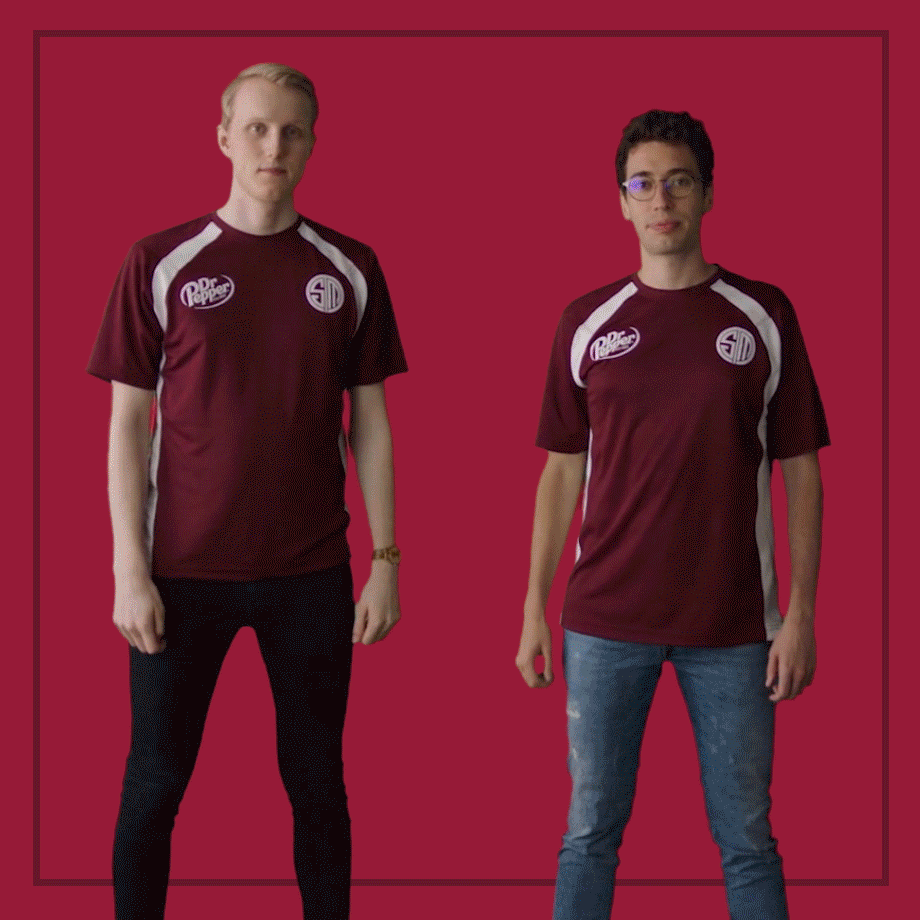 Reaction gifs
Talking trash is a big part of the esports culture, so we outfitted the fans with reaction GIFs of the players. Fans bantered with them in the post-game Reddit threads and on Twitter.
We continued the successful campaign the year after. At that moment, League of Legends was already leaning heavily into Korean culture because of Korea's dominant players. Riot (the company that owns League of Legends) had created their own K-pop song and had musicians play live at their championship finals. As K-pop became more mainstream to the US audience, we knew we needed to jump in. With the addition of the TSM Fortnite players, we now had a total of 8 members – the perfect number for our very own satire K-pop boy band.
Merchandise
We launched the spot with merch for the Treat You Right Tour. Through social media activations, lucky fans received limited-run bottles, T-shirts, posters, and collectible pins.

Alongside our content, we brainstormed with TSM to help them produce their own branded content on their channels.
Team
Creative Director
Brian Linder
Associate Creative Directors
Andrew Bui
Daniel Beaudoing
Strategy Director
Bennie Reed

Strategists
Corey Austin
Jared Ohgren
Recognition
︎ 2020 Bronze Addy (Social Media Campaign)